Attention All New Webmasters!
There's nothing like that feeling of helplessness when you're sitting there staring at your cPanel homepage wondering where in the heck you're supposed to start...
You've got files to upload, an entire site just waiting for customers to come flooding in so that you can start making your dream of an online income come true...
Or that paid membership site you've been working on for so long, trying to get everything just right... and now you can't get it uploaded...
All because of that crazy cPanel!
Until now, your only option when trying to figure out how to make everything work right was to hire professional help that cost you an arm and a leg...
Or to spend countless hours trying to figure everything out on your own, wasting precious time and energy.
That's why this product was created... to make using cPanel simple...
Even for the greenest beginner!
Introducing...
"cPanel Magic!"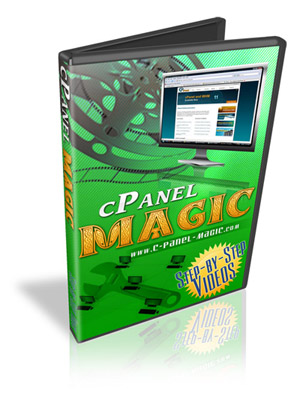 A brand new video training series which takes you through the entire process of setting up your site using the cPanel interface - making it easier than ever to get your new site up and running!
Never before has anyone taken the process of setting up a site using cPanel and broken it down into such simple and easy to follow instructions...
Fifteen videos in all will literally take you by the hand and walk you through the process in a way that makes it all seem so simple...
You'll wonder why you ever doubted yourself in the first place!
Just take a look at what all is included in this amazing cPanel video training series:
Video #1: - Create e-mail - One of the most important parts of being a webmaster/internet marketer is making sure your customers have a way to get in touch with you; but setting up your email account in cPanel can be a hassle if you aren't sure what to do. In this video, we take the pain out of creating your email accounts, so that you never have to worry again about losing touch with your client base.

Video #2: - Default e-mail address - In addition to having your email accounts set up through your cPanel, it's also important that cPanel knows and recognises your default email address. This video makes it easy as pie!

Video #3: - Add forwarder - When you want your emails stored in cPanel, it's important to set up an email forwarder. This rings true whether you want your emails saved in a particular forwarder, or just want everything to run through your Gmail account to cut down on SPAM and harmful attachments. In this video, we show you how to quickly and easily set up an email forwarder in cPanel.

Video #4: - Create FTP account - Your FTP account is the number one most important tool in your cPanel account. This nifty little tool allows you to upload files to your site on the fly, without needing to log into your web-based account. This video shows you how to set up your FTP account to make updating your site and content easier than ever!

Video #5: - Anonymous FTP - Of course, you don't want to let just anyone into your cPanel account to upload files; but at the same time, you may want to allow visitors to download certain files on their own without your needing to set up a new download page for each item. With an anonymous ftp account, you can allow users to download files from your site, without allowing hackers and thieves access to the rest.

Video #6: - File manager - The cPanel file manager can be the most confusing aspect of the entire program. Keeping track of all the files and subdomains in your site is vital to keeping your business up and running; which is why this video shows you everything you need to know about keeping your files organised in the cPanel file manager.

Video #7: - Sub-domains - In this video, we've broken down the process of creating multiple subdomains in your cPanel account. This allows you to have multiple websites, without the need for multiple domain names on each, or paying for separate hosting for each site.

Video #8: - Re-directs - Driving traffic to your site, but want to change the page you're sending folks to? Then a simple page redirect is all you need. In this video, we've shown you just how easy it really is to create a page redirect so you don't lose any of that valuable traffic.

Video #9: - Password protect a directory - Run a membership site, or just want to keep thieves out of your product files? This video will show you how to create a password-protected directory in cPanel which will keep prying eyes out of your site, and yet still allow you or your paying members easy access.

Video #10: - Add autoresponder - Customer communication is key to any business, and setting up an autoresponder makes that communication easier than ever. This video walks you through the step-by-step process of setting up your own autoresponder series so that you can better stay in touch with your customer base.

Video #11: - MySQL database - One of the most confusing aspects of the cPanel interface is the MySQL database. If you're not already a top programmer, setting up your MySQL database can seem not only difficult... but impossible! In this video, we show you how to quickly and easily organise all of your site data using MySQL.

Video #12: - WordPress - The most popular and simple to use blogging platform can be one of the most difficult to install within the cPanel interface for a beginner. In this video, we've broken it down into simple steps that anyone can use to install the WordPress platform on their own site.

Video #13: - Cron tasks - In order to automate some of your content delivery, or to schedule a site maintenance on a given day, you'll need to know how to set up a Cron task (or Cron job). Unfortunately, without the proper instruction, this is virtually impossible. This video shows you how to configure your cPanel to perform all of the necessary scheduled tasks to keep your business up and running smoothly.

Video #14: - Apache handlers - Another important part of running a website is being able to tell your server how to handle files with particular extensions. In cPanel, your Apache handlers are what perform this function. This video shows you how to configure your Apache handlers so that you never need worry about how these files act or display.

Video #15: - Agora Shopping Cart - If you're planning on doing any selling at all on your new website, then it is important that you are able to set up your Agora shopping cart so that customers are able to purchase more than one item at a time. This final video shows you how to do just that in no time at all!
Each one of these videos was created by an expert in the cPanel interface...
Leonard Payne is one of the internet's leading experts on the cPanel interface, and I've convinced him to put this amazing video training series together just for you, showing you exactly how to get your sites up and running in no time using cPanel.
Richard, I'm ready to stop the frustration of trying to figure out cPanel on my own... let me in!
You have two choices...
One, you can keep beating your head against the computer in frustration trying to figure out cPanel on your own...
Or...
You can grab your copy of this amazing cPanel video training series right now and demystify the process of setting up your sites using cPanel forever!
The choice is yours!
And I've got to tell you - at this price, you can't afford NOT to get your hands on these videos right now!
What price is that, you ask?
Why, no more than the cost of a couple of hamburgers at your favourite fast food joint...
Just a mere $7 will allow you to take all the complications and frustrations out of the cPanel process from here on out!
Just Seven Dollars!
Or... you could spend the next several months trying to figure out the interface on your own.